Trending Music on TikTok — The Ultimate Guide
Apr 07, 2022
TikTok music trends go in and out of fashion like it's nobody's business, so if you're still struggling to wrap your head around it, you're not the only one — trust me. "Where do I find trending music for TikTok?" is still one of my most frequently asked questions. And hey, I've been there — I wasn't always the TikTok Trend Queen that I am today. But after lots of trending experience, I can confidently say I know my way around the TikTok music block. So here's my ultimate TikTok music guide — find everything you need to know about trending music on TikTok below!
Why should you hop on the latest music trends?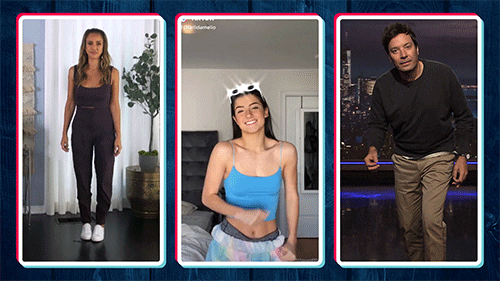 What's a TikTok trend without its trending music? A painful 10-second clip of someone mouthing to unknown lyrics and dancing offbeat — this is a whole new level of awkward silence.
Let's be honest — TikTok became famous because of its music. You might not know every song on TikTok, but I'll bet you know 10 seconds of almost every TikTok famous song of the last 2 years. This just shows the power of TikTok music. In fact, the music industry is now tapping into the power of TikTok by focusing on creating music for specific trends and leveraging an artist's discoverability with the hope of fame and making a full-length version of the sound or song.
Jumping on board the hottest TikTok music trends has some major benefits for your business:
You can make relevant content for your current followers to keep them engaged
While going viral helps you gain more followers,
building a powerful community
makes sure you keep them — and this is much more important for establishing your business on TikTok. So yes, while hopping on the latest music trends is great for getting more followers, I'd recommend focusing on the music trends that are relevant to your audience and niche. Reaching the top of the charts lasts only a second in the world of TikTok — creating solid relationships with your audience can last a lifetime.
To stay up to date with all the freshest trends, you can sign up for my weekly
TikTok Trend Report
where I give you the rundown on
all
the trends making waves each week — you're guaranteed to find trends perfect for your niche!
The scoop on the TikTok Viral Playlist
So where does one go to find this notorious trending music? Most people answer with the most obvious place — TikTok! But sometimes the most obvious option can be more overwhelming than helpful.
TikTok has a viral playlist that boasts all the latest viral songs. It's certainly the easiest place to look — it's found directly on the app. However, it's not always up to date. With TikTok, trending music and sounds move lightning fast, and the viral list has had the same sounds listed for months.
Where are some other alternatives to finding trending music on TikTok?
TrendTok is my number one go-to when looking for the hottest, trending music. It's a superhero of an app that shows you various categories of trending sounds. Better yet, it tells which sounds are rising in popularity, which are trending, and which are taking the fall. This means that, with a keen eye, you can spot the first glimmer of a trend and jump on it before it becomes too saturated. My favorite thing about this app is the daily notifications in the top-right corner that tell you the trending sound of the day – you can always count on TrendTok to swoop in and save the day!
Believe it or not, the next best place to strike gold is Spotify. Spotify is the queen of all playlists, so it shouldn't come as too much of a surprise that its viral playlist is topping the charts. What makes Spotify's playlist better than the rest? It's even more up-to-date than TikTok itself! Just head on over to Spotify, search Viral Hits, and you'll find the Spotify playlist with all music that's viral, trending, and taking off.
For all you Apple lovers out there that don't have Spotify — don't worry, I've got you covered. Apple Music also has a viral playlist with all the top TikTok songs currently trending. Just go onto Apple Music, plug TikTok Viral into your search bar, and voila — all the trendiest TikTok music in the palm of your hand.
Lastly, there's TokChart, a website that will give the top 100 trending songs of the last 24 hours. On top of that, you get the 30 fastest growing TikTok songs in the last 24 hours. Updating daily, this is a great place to come to if you want the latest scoop on TikTok trends (it will also show you quite clearly just how fast TikTok changes). TokChart gives you only the basics, so if you're looking for more comprehensive reports and data, TrendTok may be the better place to go.
How to add music to your TikTok videos
Finding the trendiest music for TikTok videos is one thing, knowing how to add them to your TikTok videos is a whole other situation. If you're new to TikTok and still trying to figure out how to add sounds to your content, there are 2 ways to do it depending on how you're using the sound.
Adding the sound while filming (this is used when you are lipsyncing, dancing, performing a transition, or doing anything that requires action to the beat of the music)
Open TikTok and click on the '+' sign at the bottom

Click on 'Add sound' at the top

Here, you can search any sound

Alternatively, to find commercial sounds and access playlists, click on the 'Sounds' drop-down menu at the top and click on 'Commercial Sounds' if on the Creator account

Add your own sound by clicking on 'My Sound' in the top right corner
Adding the sound as background music.
After recording your video, go to the editing panel and tap on sounds in the bottom left corner

Here, you can add a recommended sound, or search in the music library and your favorites folder

Once you add the sound, tap on volume to adjust by dragging the sliders
Now that you know the ins and outs of trending TikTok music, you'll be on your way to trend town in no time. If you need some extra help, here's a post I wrote on
recreating the TikTok trends
that'll make sure your trendy videos are bops and not flops.
And just one last reminder of the importance of community over virality when growing your business on TikTok — TikTok trends come and go, but a community is here to stay! This is essential to gaining loyal champions of your brand. To help grow your business on TikTok, here's my masterclass on
Beat The TikTok Algorithm
. Here's to topping the trends, finding your niche audience, and helping you thrive, friend!